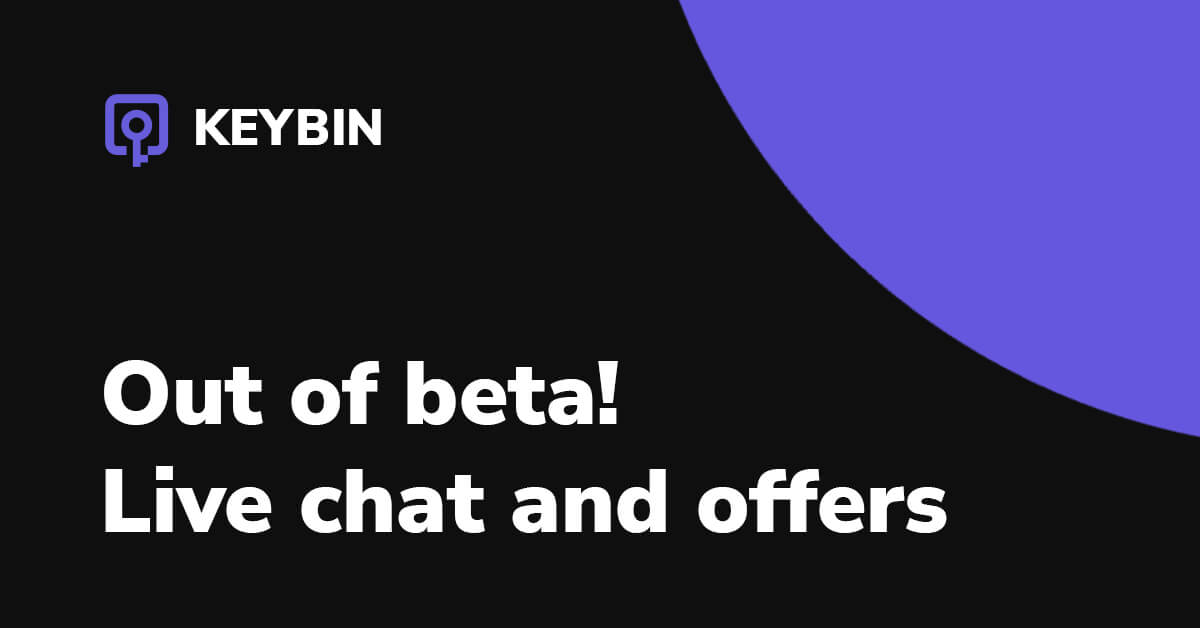 We are thrilled to announce that the Keybin platform is after five months of testing and adding features out of beta 🔥! In December 2020 we introduced Keybin to the digital wholesale market and since then we received a lot of feedback and bug reports now we can confidently open a platform to everyone.
🙌 What was added in beta:
– completely new invoicing system
– updated withdrawal system
– exports of keys (image and text)
– merchant live chat
– preorder system
– custom offers thru live chat
– partly implanted credit system for active merchants
– user profiles now have more options (withdrawal info, company info, hold period….)
– new users can now register on the platform and login to the platform with restrictions before verifying
– Order invoices pdf's have a green complete icon in case you downloaded the invoice at least once
– Orders/keys that were already downloaded at least once have a green complete icon
– admin dashboard for easy management (this is only for our staff but speeds up the process if you need help)
– Keybin is now ready to import and export products and stock thru API
Check all platform features here.
👌 What was improved/fixed:
– displaying qty of keys was sometimes wrong
– exporting keys (image or text) is now much faster
– importing image keys is now much faster
– improved encryption of image and text keys
– improved hold period, now we can set this per user
– withdraw funds now have statuses
– deposited funds can't be withdrawn automatically (needed so the credit system can't be abused)
– deposit/withdraw funds is now faster (usually instant or within 24 hours)
– a lot of improvements on API
– a lot of small bugs and visual improvements across the platform
The last feature that we wanted to introduce to the market before going out of beta was a live chat with offers. We really thrilled that you can now use our live chat to connect with others merchants on the platform 🎉!
To start chat simply click on the green chat icon on the offer from a merchant under the tab All products and a new chat will be generated. You can always access your chats under the tab Merchan live chat. You can always use chat to simply say "Hi", accept or create a custom offer. Check the video below to see how it works.
Keybin API is now open for stock and product imports. Product exports and stock exports thru API is also possible, In next months we are also releasing export for popular e-commerce CMS like WordPress, Magento 2, Opencart and others.
And that's all for this blog post! 😊 As always if you have any questions we are happy to help you thru email [email protected] or add us on Skype: cid.2776d7f2c73137bc
Your Keybin.